Since Jose Fonte completed his moved to Chinese Super League side Dalian Yifang, David Moyes has been planning an overhaul of the defence at London Stadium, that is, if he stays on, of course, and should he keep West Ham in the top division, he's set to be offered a two-year deal.
Having sold the Portuguese just over a year since joining from Southampton, Moyes is satisfied with allowing the departures of centre-backs if new players can be brought in – but of course, that's easier to say than do.
In the defensive third of the pitch, a revamp is being planned, but it's not just Fonte'sdeparturee that has triggered plans.
James Collins contract talks are up in the air, with the Welshman yet to discuss a new contract. With a year to go, there won't be many happy Hammers if he is let go, especially to a newly-promoted or a mid-table side.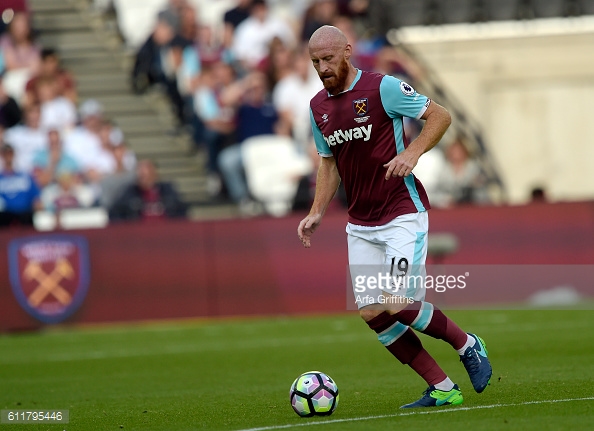 Its said that Collins deserves a new contract, but age isn't on his side, with the sale of Fonte (34) used as an example. Despite Collins yearning to see out the rest of his career in East London, he's unsure of that due to the development of his ex-teammate.
Ryan Fredricks (right-back) has been made a serious tagert for the summer, preferably on a free from Fulham, should he not sign a new contract with the Craven Cottage side, with Sam Byram also probable to exit as Pablo Zabaleta stay at the club will be certain for another year at least.
New Zealander Winston Reid has had an injury-ridden season and is unsure of whether he's still in plans, so that could be a reason as to why he could possibly be let go of, but that's not likely, but still a possiblity.
With Declan Rice emerging, West Ham have a future centre-back. Should the club sign Fredericks in the summer, it could be said the defensive department if younger than what it is now!
Arthur Masuaku being shifted further forward and Aaron Cresswell to left-side centre-half was the first hint Moyes gave that he reckons that needs strenghtening. He would certainly have to do that, especially if Collins does go. Moyes would opt to play a back four, but the defence leaking goals, he's played a bacl five which to some extent, has gone to plan.
Angelo Ogbonna has been key for his side this season, and there's no question as to whether he'll stay or not, especially as he's now recovered well from injury.
The sale of Jose Fonte hails the start of a new direction for West Ham. Reports transpired last week about the club being interested in Manchester United defender Chris Smalling, with former January target Leander Dendoncker is able to play at centre-back (that is, if Moyes is still interested). Smalling has played under Moyes at Manchester United, David Moyes may be interested in working with the defender again. 
David Moyes has reiterated that his side concedes too many goals. This has improved slightly under his management, but still not enough clean sheets for the Hammers, with the result against Watford just the seventh all season.
This summer will ultimately be a test of Moyes' credentials in the market if it's decided that the defence needs a total overhaul, but with players in the form of Rice, Ogbonna, Masuaku, and Zabaleta in place, the foundations are there.
Feature image credit:
Hammersfan
Comments
comments